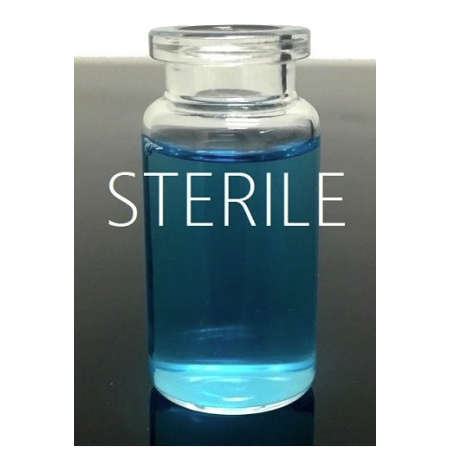  
ISO 10R 10ml Clear Open Sterile Vial, Nest and Tub Tray of 96
ISO 10R 10mL serum vial, WASHED STERILE READY TO FILL, 24x45mm, tray of 96 pieces 
Manufactured with a standard 20mm crimp neck finish. 20mm seals and stoppers sold separately.
Nest and tub style packaging with an alveolar tray (2nd image).
10ml blue liquid added to the vial in the image helps to illustrate a 10ml filling.
VOIGT catalog no. 62121DWO-5-96

Return Policy
Click here to read our returns policy.
WASHED & STERILE ISO 10R VIAL - NEST AND TUB PACKAGING
Open, unsealed sterile vial that has been pre-washed and sterilized.
ISO 10R dimension: 24x45mm with a standard 20mm crimp finish (sterile seals and stoppers sold separately). 
These vials have been washed with "WFI" quality water (USP grade Water for Injection), depyrogenated with heat, and sterilized using ethylene oxide. These vials are also relatively free of any particulates.
Unique alveolar tray with nest and tub packaging keeps glass vials from touching one another in transit. Reduces cosmetic imperfections and breakage!
10mL blue liquid has been added to the vial for illustration of this vial capacity.
Convenient, sealed trays of 96 pieces per tray 
Full sterility C of C quality assurance documentation made available to all paid customers.