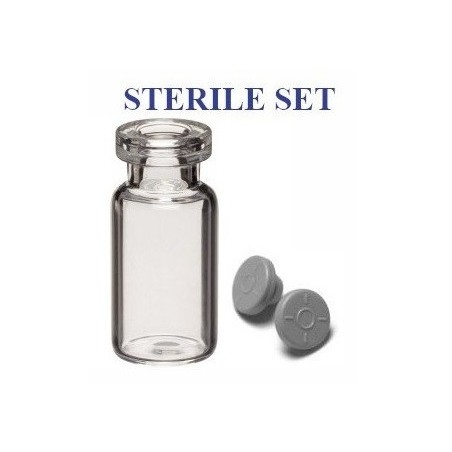  
2mL Clear Sterile Open Vial and Stopper Set, 417pc
2ml clear open sterile vials, double bagged tray of 417 pieces PLUS a separate double bagged quantity of 1,000 13mm sterile vial stoppers. 

Return Policy
Click here to read our returns policy.
STERILE SET - 2ml clear sterile open ready to fill vials with 13mm sterile vial stoppers
2mL Clear Sterile Open Vials, Depyrogenated, Tray of 417 pieces.
Measure 15x32mm with a standard 13mm crimp finish (7mm opening x 13mm outer rim diameter) - not sealed and are not stoppered
Manufactured and pre-washed by Gerresheimer, depyrogenated and terminally sterilized by SteriGenics.
Must be opened in the cleanroom - these sterile open vials are unsealed.
Provided in plastic trays with double bagging.

A completed C of C on Gerresheimer and SteriGenics letterhead is available on request for all lots sold. 
All reams of 417 pieces have a label showing:
GERRESHEIMER
Our Item No.: 62113S-2
The Lot / Batch Number
Quantity per ream 
This information is then traceable to your paid invoice as well as the Gerresheimer C of C

Sold as a tray of 417 pieces
UNSEALED / UNSTOPPERED - must be opened in the cleanroom!
PLUS
13mm Round Bottom Vial Stoppers, gamma-Irradiated at a minimum 25 kGy (Cobalt-60).

Independent 3rd party testing for CFU and Endotoxins. 
Packaged in a double-polyethylene bag with gamma-irradiation indicator on each bag.
Each bag is lot labeled for traceability to both your CFU/Endotoxin testing paperwork and invoice.
Sold in lot labeled bags of 1,000 pieces